How long does an EICR take?
At EICR Edinburgh our professional, qualified & certified electricians take a minimum of 1.5 – 2 hours for even a 1 bedroom flat. This is to ensure that your EICR is carried out properly. On occasion, an EICR can take up to 4 hours, at the same fixed price. We have had customers in Edinburgh telling us the last "company" carried out these tests in 20 minutes. Unfortunately, we have been called out to several homes where people have experienced shocks, a melted consumer unit or dangerous sockets etc to find the test had not even been carried out. The paperwork was filled out to give unscrupulous companies a hassle-free "pass" and the "electrician" a quick payday.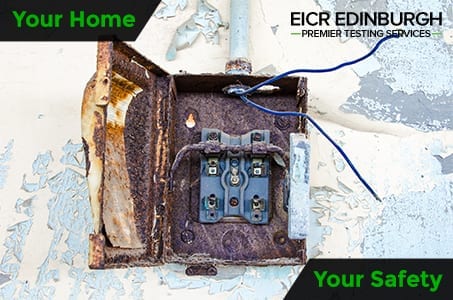 Who can perform an EICR?
EICR's should only be carried out by a qualified & certified electrician. In Scotland, only SELECT (Scotland's own certification scheme) OR NICEIC members are registered electrical contractors. All EICR Edinburgh's electricians carry an APPROVED electricians card.

The new PIR test certificate is called the EICR electrical installation condition report. Fixed Wire Testing (also referred to as Periodic Inspection Report) is a procedure that's undertaken to evaluate and report on the condition of an electrical installation to help ensure its, and by extension, you safety. Therefore, the Health and Safety Executive (HSE) recommend periodic electrical inspections and testing to be undertaken at all places of work. The procedure previously described is to minimize risks and ensure your electrical installation complies with all relevant regulations EICR Edinburgh provide comprehensive Electrical Installation Condition Reports (EICR) to comply with the Electricity at Work Regulations and BS7671:2011.
How often are EICR's required?
In Scotland, Select recommends that an EICR is carried out at the following times:
For tenanted properties, every 5 years. Also, it's recommended at each change of occupancy as tenants may have altered or damaged existing electrics. After the first full inspection, we offer a £45 quick inspection to make sure there is no damage to the electrical installation.
At least every 10 years for an owner-occupied home that way we can check if there has been any deterioration that may signal damp, or perhaps mice, etc that enjoy a chew on cables!
At least every 5 years for a business, keeping you, employees and customers safe
The Landlords and Tenant Act 1985 requires landlords of properties with short leases to keep the electrical wiring in repair and in proper working order. We recommend landlords arrange for an EICR to be carried out by a registered electrician at the relevant intervals shown above.
Periodic inspection and testing of the electrics should be carried out more frequently on the places and premises listed here:
o 3 years for a caravan
o 1 year for a swimming pool and changing rooms
According to the IET wiring regulations – SEVENTEENTH EDITION
Chapter 62 – 622 Frequency of Inspection and Testing
622.1 – The frequency of periodic Inspection and Testing of an installation shall be determined having regard to the type of installation the equipment, its use and operation, the frequency and quality of maintenance and external influences to which it is subjected. The results and recommendations of the previous report, if any, shall be taken into account.
622.2 – In case of an installation under an effective management system for preventative maintenance in normal use, periodic inspection and testing may be replaced by an adequate regime of continuous monitoring and maintenance of the installation and all its constituent equipment by skilled persons, competent in such work appropriate records shall be kept.