[vc_row padding_top="0%"][vc_column][wpc_custom_heading heading="LED Lighting" colored_line="yes"][vc_message message_box_color="green" icon_fontawesome="fa fa-thumbs-up"]
At EICR Edinburgh we help individuals and organisations ensure their lighting systems are as efficient as possible. We are happy to design you an LED lighting conversion that can dramatically reduce your bills by 70 – 90%
[/vc_message][vc_column_text el_class="eicrbullet"]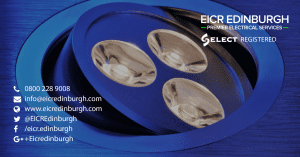 Getting lighting right is important for the energy efficiency of a building and the well-being of its occupants. Up to 40% of a building's electricity use is accounted for by lighting, while the right level and quality of light improves the alertness and accuracy of those working in it. At EICR Edinburgh we have a great working relationship with our suppliers to ensure you the best price and an efficiently designed installation.
Ways to improve your organisation's lighting include:
Occupancy sensors: By dimming or switching off lighting when there is nobody in a room occupancy sensors can reduce electricity use by 30%.
Daylight sensors: Adjusting the artificial lighting according to the amount of natural light in a room using daylight sensors or photocells can reduce electricity use by up to 40%.
Maintenance plan: By regularly cleaning windows and skylights you can reduce the need for artificial light. Cleaning the fixtures that contain lamps, known as luminaires, will improve their performance.
In domestic environments we can change all the lamps for you , for tried and tested LEDs.
In commercial environments we can often do a straight changeover to LED panel lighting – combined with a voltage optimiser you should pay for the installation within 1 – 2 years , and make a saving of 70 – 90% per annum. That's a HUGE saving!
[/vc_column_text][/vc_column][/vc_row][vc_row][vc_column][vc_column_text]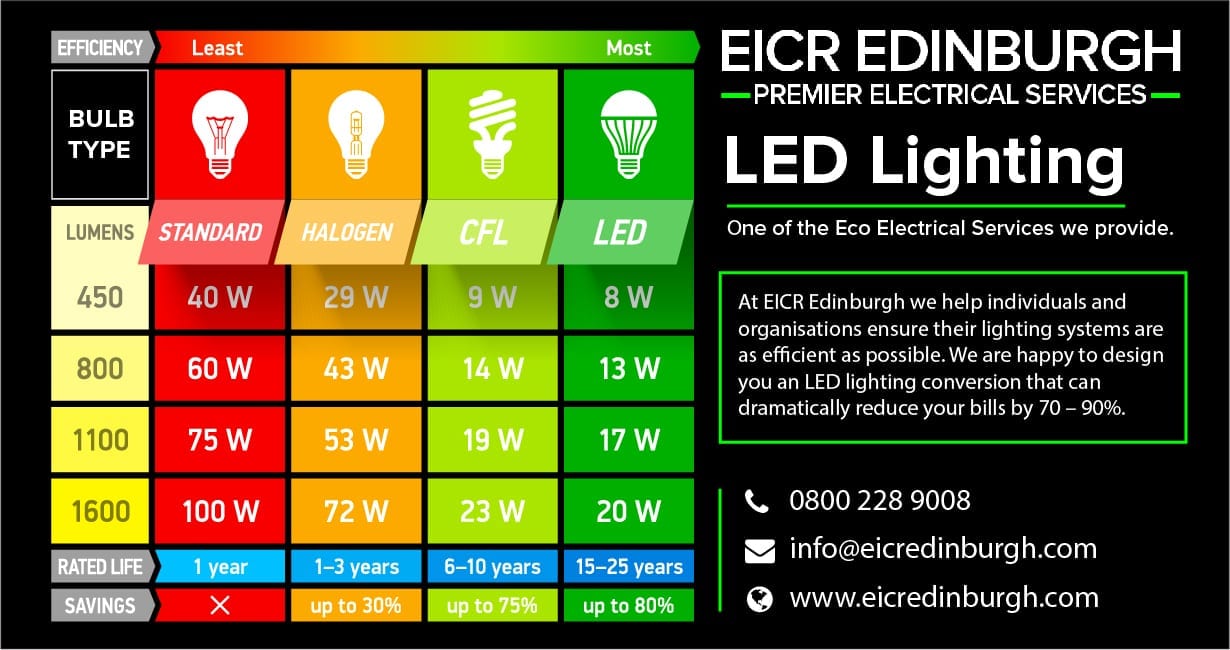 [/vc_column_text][/vc_column][/vc_row][vc_row][vc_column][wpc_custom_heading heading="Other Eco Electrical Services" colored_line="yes"][/vc_column][/vc_row][vc_row][vc_column width="1/2″][wpc_featured_box image="1687″ more_text="Voltage Optimiser" link="url:http%3A%2F%2Fwww.eicredinburgh.com%2Feco-electrical-services%2Fvoltage-optimiser%2F||"][/vc_column][vc_column width="1/2″][wpc_featured_box image="1686″ more_text="Car Charging Stations" link="url:http%3A%2F%2Fwww.eicredinburgh.com%2Feco-electrical-services%2Fcar-charging-stations-edinburgh%2F||"][/vc_column][/vc_row]