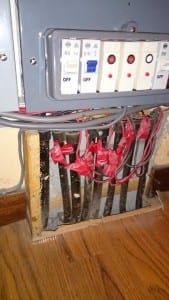 Customers are not always aware of the potential danger they are in. Lets face it, electrics are not at the forefront of home owners minds, consumer units (fuseboards) are often hidden away and never given a second thought. Some safety checks and a little maintenance can prevent fire hazard or shock hazard. EICR Edinburgh specialise in Electrical installation condition reports , and any associated repairs. We can also advise /install building warrant standard fire and CO alarms systems.
The below pictures were actually in an old friends flat we were called to do some small installation works and ended up carrying out a part rewire within a week due to the dangerous condition of the installation in a property he had bought. The home report can not be trusted as far as your electrics are concerned so please get your installation checked.
We can carry out an initial visual observation for as little as £45 and give you a recommendation tailored to your individual needs.